The events make for riveting footage. Thousands of protesters with signs and chanting outside an office building. Police arresting peaceful demonstrators for blocking traffic. A reverend sharing a personal story with a reporter to illustrate why change is needed. Viewers instantly become glued to what's on their screens.
Advocacy groups typically work on several levels to influence and create change. They lobby lawmakers and politicians, form strategic coalitions, and build grass-roots support. All are essential for a successful campaign, but broadcast news coverage can easily tip the scales in your favor.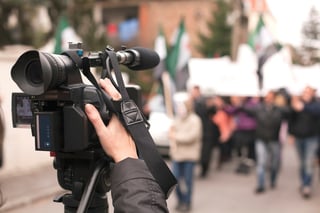 For advocacy groups, the importance of broadcast monitoring goes far beyond counting the number of nightly news shows that covered your protest. Television is most effective when it's used strategically. Let's look at four ways you can use broadcast media monitoring to build coalitions and influence change.
1. Discover Real-Time News Hooks
A staged event is a great way to get noticed, but once it's over, your organization will fall out of the news cycle quickly. However, monitoring broadcast news for coverage of your issue for alternative reasons can reveal a potential storyline or news hook.
For example, hackers recently forced US Olympian and gold medal winner Simone Biles to admit she took medication for ADHD. Organizations that support individuals with the disorder can use news stories like this one as a reason to reach out to the press, clear up any misconceptions, and share their messages.
2. Shape Campaign Strategy
With data and insights culled from broadcast media monitoring, advocates can make better decisions about how to engage broadcasters to deliver their messages. This media intelligence can help them prioritize which news shows and journalists to approach first
3. Identify Potential Partners
The most successful advocacy campaigns recognize the crucial role of networks in achieving their goals. Advocacy groups will find that broadcast media monitoring is an effective way to identify politicians, corporate decision makers, other cause organizations, and even entertainment shows whose interests align with theirs. The combination of Moral Mondays and Fightfor15, for example, achieved higher awareness of economic justice, poverty and living wages when their combined protests were covered by many news shows across the nation.
Advocacy groups can also use broadcast monitoring to identify entertainment shows that may be able to integrate messages into the storyline that raise awareness and change behaviors. This strategy has been used by numerous causes. In one example, a private foundation worked with Hollywood Health & Society to create awareness about the Affordable Care Act. The result was a storyline on the popular program Grey's Anatomy about an undocumented immigrant seeking health care for her child.
To identify such opportunities, PR professionals can set up broadcast monitoring alerts for mentions of their issues. When a politician begins speaking about it or a primetime TV show introduces a storyline about, for example, climate change, the advocacy group can reach out.
After execution, broadcast monitoring captures the results of this approach, alerting advocates to each time the organization or cause is mentioned both on the news and on entertainment shows.
4. Measure and Report Media Wins
Rallies and protests will have a longer shelf life when you monitor broadcast coverage of these events. Advocates can use broadcast media monitoring to evaluate and promote the success of their campaigns. Geographic and viewership data provides useful insights about who the campaign has reached – and who it might of missed. In addition, the list of major news programs that covered your story or event can become valuable talking points when speaking to donors and supporters.
Television is a powerful medium. Used wisely, it's attention-grabbing, visceral, and persuasive, which can help your cause enormously. A segment on the benefits of exercise on heart health has the potential to save not just one person's life, but millions. A street full of television reporters means your message will instantly zip around the country.
But getting that coverage in a sustained way requires constant vigilance and planning. With broadcast media monitoring, advocacy groups and their causes will have a better chance of being heard in a noisy environment.