Pharmaceutical companies have had a rough ride in the media over the last couple of years. Both Mylan Pharmaceutical and Turing Pharmaceutical have faced criticism for drug pricing, and Valeant Pharmaceuticals is under federal investigation for insurance fraud. But the news on firms isn't all negative: Johnson & Johnson recently agreed to buy Abbott Medical Optics in a well-heralded deal.
Drug companies are often in the news, not only because the industry is sizable, but also because when it comes to the public health, viewers do pay attention. That's why broadcast media monitoring is crucial for product development and public relations managers in the industry. And while media relations may be the top reason to invest in a service, it's not the only benefit of a broadcast media monitoring program. Here are five reasons pharmaceutical companies should invest in a broadcast media monitoring tool.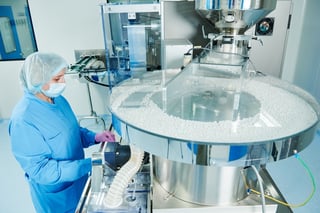 1. Reputation management
In the 2016 Edelman Trust Barometer, just 53% of consumers say they trust drug companies. Thus, PR pros in the pharma industry have their work cut out for them. The first step in developing an effective reputation campaign is to analyze media coverage. Broadcast media monitoring enables communications specialists to stay on top of breaking news, evaluate clips to assess media opinions and biases, identify both off- and on-target messages, and determine what steps should to be taken to mitigate tough situations.
2. Social Issues
One way to earn the public's trust is to align the organization with societal issues, particularly those pertinent to the business. Many pharmaceutical companies do this already. Bristol-Myers Squibb, for example, raises awareness about breast cancer, while Merck for Mothers develops programs to improve the health of women around the globe. Media outreach is a central component of such initiatives. With broadcast media monitoring, PR pros can identify potential media opportunities and the right journalists to pitch their programs.
3. Key Opinion Leaders
Many pharmaceutical companies rely on experts to help advise on strategic initiatives and help educate healthcare professionals about their products. However, these key opinion leaders are in short supply. Using broadcast media monitoring, PR pros can alleviate this problem by setting up alerts on specific diseases and research. This enables them to spot up-and-coming experts early, before the competition scoops them up.
4. Competitive Intelligence
While broadcast monitoring is most often used to adjust communications strategy, it can also be a significant competitive intelligence tool. The market research team can set up alerts to track activities and developments by all competitors as well as keep up on the latest news about relevant diseases. It's a fast and effective way to know exactly what all of the other industry players are doing, with minimal effort.
5. Reporting
Whether it's their own company in the news, or a competitor, pharma CEOs need the full story. PR pros can use broadcast monitoring to search for and provide their executive teams with a 360-degree view of the market environment, from Wall Street reactions and competitor moves to activist causes and the state of the company's own reputation. All this is accomplished in a few clicks, and a fully annotated report that incorporates relevant segments can be delivered to product teams, the C-Suite and even board members.
To shift public perception in its favor and to remain competitive, the pharmaceutical industry needs complete access to opinion, activist and competitive data. Broadcast media monitoring provides a unique set of insights that can drive positive media outcomes and profitable competitive initiatives. Request a free trial of TVEyes to learn how it can benefit your organization.