Broadcast media content provides incredible value and intelligence for a wide range of our clients, including public relations professionals, executives and even private investors.
For example, video and audio segments can prove the value of the PR team to others across the organization. A review of relevant clips can help a journalist investigate a story. For decision-makers, the ability to pair broadcast media metadata with organizational measures is highly prized because it helps to drive strategy.
To make it easier for customers and partners who would like to provide their users with customized broadcast media data, TVEyes offers several API solutions.
These easy, affordable options deliver the ability to search video and audio content into any platform or application, allowing our customers and partners to provide added value to their internal teams or customers.
Our APIs can save time and increase productivity by making customized broadcast media, transcripts and other metadata easily accessible from your intranet, internal application, or customer-facing platform.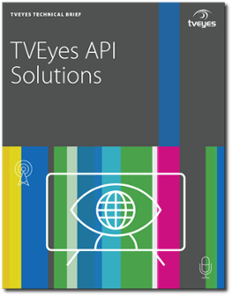 To help you learn more about TVEyes' API solutions, we've put together this free guide explaining how your development team can work with us to make searching broadcast content more accessible to your customers or internal teams.
In this guide, you'll learn more about:
The benefits of an API based solution.
TVEyes Saved Search API, which allows you to receive a filtered data stream to enable search of broadcast media specific to your interests.
TVEyes Page Feed API, which offers the full TVEyes database to enable broadcast media content for discovery and analysis.
TVEyes MediaView API, which enables you to embed a media player on your platform.
How TVEyes collects its data globally – and what makes it unique.
Download this free guide today and learn how to make the most of searching broadcast media content using TVEyes API Solutions!