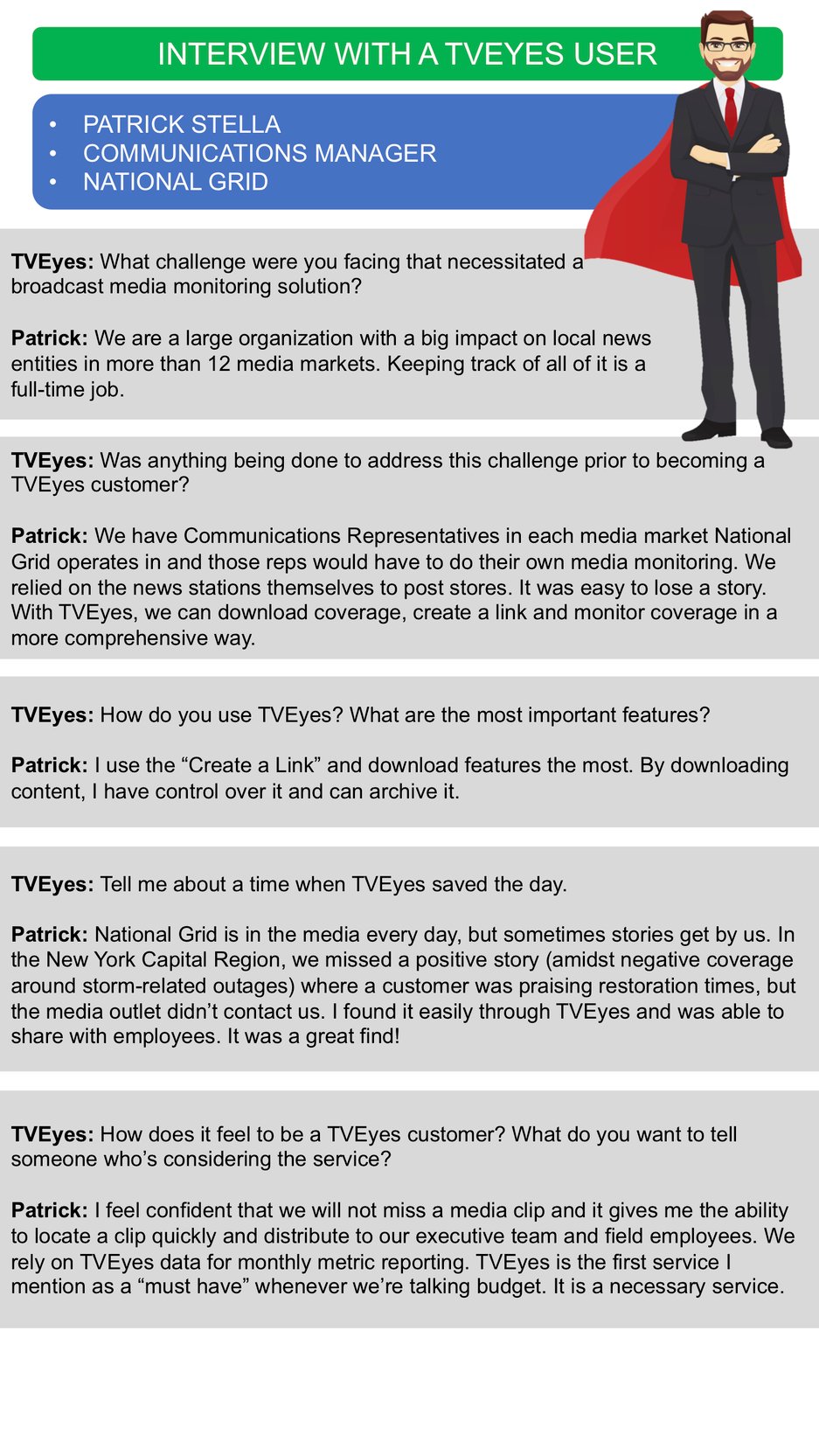 Interview with a TVEyes User
TVEyes User PATRICK STELLA
COMMUNICATIONS MANAGER
NATIONAL GRID
TVEyes: What challenge were you facing that necessitated a broadcast media monitoring solution?

Patrick: We are a large organization with a big impact on local news entities in more than 12 media markets. Keeping track of all of it is a
full-time job.
TVEyes: Was anything being done to address this challenge prior to becoming a TVEyes customer?

Patrick: We have Communications Representatives in each media market National Grid operates in and those reps would have to do their own media monitoring. We relied on the news stations themselves to post stores. It was easy to lose a story. With TVEyes, we can download coverage, create a link and monitor coverage in a more comprehensive way.
TVEyes: How do you use TVEyes? What are the most important features?

Patrick: I use the "Create a Link" and download features the most. By downloading content, I have control over it and can archive it.
TVEyes: Tell me about a time when TVEyes saved the day.

Patrick: National Grid is in the media every day, but sometimes stories get by us. In the New York Capital Region, we missed a positive story (amidst negative coverage around storm-related outages) where a customer was praising restoration times, but the media outlet didn't contact us. I found it easily through TVEyes and was able to share with employees. It was a great find!
TVEyes: How does it feel to be a TVEyes customer? What do you want to tell someone who's considering the service?

Patrick: I feel confident that we will not miss a media clip and it gives me the ability to locate a clip quickly and distribute to our executive team and field employees. We rely on TVEyes data for monthly metric reporting. TVEyes is the first service I mention as a "must have" whenever we're talking about budget. It is a necessary service.