It's simply impossible to craft and execute a successful public relations strategy without research. A good strategist will begin the process by asking a few essential questions: Which media outlets are likely to cover our story? Which journalists are likely to be adversarial? Who can I count on to be friendly? What other issues might have an impact on our story? What are our competitors doing?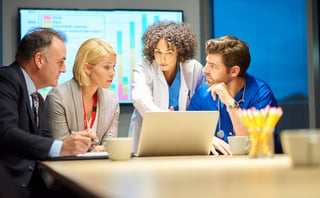 One of the best tools PR strategists have at their disposal is broadcast monitoring, which is highly effective in answering these questions.
Here are three ways to use broadcast monitoring research to sharpen your strategy.
1. Stay on Top of Coverage Spikes
From the outset, strategists need to have a firm grasp on past news coverage. Understanding when and why your brand has been in the news will help you identify and evaluate emerging issues.
If your brand is consistently in the news, your news coverage likely follows a standard pattern. But when that pattern is disrupted – for example, your coverage suddenly doubles overnight – you'll need to investigate what's behind the changes. Broadcast monitoring enables you to drill down into the coverage, discover what is driving it and determine whether you need to take action.
One brand that is routinely covered by broadcast news outlets is Netflix. Every entertainment show across the country regularly discusses the streaming service's original programming. Segments may cover news about a season being renewed or updates on a leading actor. And while spikes and dips are normal for the brand, the brand's coverage rose significantly on one day in late March. Digging into the specific broadcast coverage for that day, there's evidence the spike largely was driven by news reports that the company had been throttling its content to AT&T and Verizon mobile subscribers. Of the 2,251 mentions of Netflix, more than 700 were about this topic.
2. Are the Right Media Covering Your Story?
Total audience data for each program is a must-have input for evaluating media targets. With broadcast monitoring, you can assess not only the audience size for each program, but the estimated value of airtime in front of each audience.
On its own, the value advertising equivalency is limited, but as a way to put coverage in context, however, it can yield some very powerful insights by providing a point of comparison. Using this analysis, you can assess the value of your ongoing coverage and ensure the right outlets are covering your story.
When singer Jessica Lowndes and comedian Jon Lovitz fooled the internet into believing they were engaged, coverage of the successful viral stunt spiked across hundreds of broadcast programs.
But a quick look at the data underscores how coverage differs among outlets. Discussion of the stunt on TMZ Live reached 2.3 million viewers and was worth $83,000 in airtime. By contrast, a segment on local news reached just 160,000 viewers for an advertising equivalent of just $9,100.
3. Learn From Your Competitor's Coverage
When the competition makes a move, the resulting media coverage will factor greatly into your strategy. Brands can play to media biases and use news segments and media interviews that discuss their competition as a springboard to their own coverage.
For example, Tesla Motor's media coverage spiked after it began taking reservations for the Model 3. But this is a wealth of data for its top competitor, General Motors, which has a competing electric vehicle, the Chevy Bolt EV.
By conducting its own post-mortem on Tesla's coverage, GM can identify media opportunities for its own launch. Its PR team can target journalists who drew comparisons between the two vehicles or craft messages that more sharply differentiate the Chevy Bolt EV.
Broadcast monitoring is an especially valuable resource for gathering important intelligence about media outlets, journalists, and the competition. PR professionals who use it to build strategy will glean insights that lead to stronger results.
Download our free playbook to learn more ways PR agencies can use broadcast media monitoring to sharpen their strategy.