We're celebrating some important achievements here at TVEyes and they're worth sharing as they help create context for understanding our business from the outside (and make us feel pretty good inside).
Last month Dave Seltzer (our system architect) and I were awarded U.S. patent 9,087,331 CONTEXTUAL ADVERTISING FOR VIDEO AND AUDIO MEDIA for the invention of a system to present contextually relevant advertisements based on words spoken in a video or audio segment being played via the Internet. The work on this invention started nearly nine years ago, very early in the life of Internet video (YouTube still had no revenue model and was about to be purchased by Google for an at-the-time staggering sum).
Dave and I realized that our innovation of indexing spoken words against video could be a source of monetization for Web properties and content owners. Video advertisements then, and now, often had no bearing on the content, and were intrusive as well. By capturing keywords from transcripts or speech-to-text we created, we could interrogate an ad serving system and present advertisements that were relevant to the viewer, increasing clicks and enhancing the user experience. You can read the news release here.
This kind of innovation and transformation of the underlying material is central to what we do here at TVEyes. We're continuing to innovate our core products and services and exploring additional ways we can apply proprietary technologies to create and support business opportunities for our clients.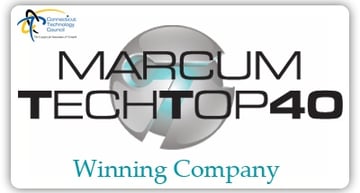 Innovation and dedication to our mission has led us to distinction again among our technology-company peers in Connecticut. We've been named a Marcum Tech Top 40 finalist for 2015, meaning that our growth over time is among the fastest in our state. We're looking forward to the event on September 24, and recognition for the hard work of our team. While it's an award for growth – hat tip to our sales team for their stellar performance – it's also an award for our development and service teams as well. Our ability to attract and retain customers is a direct reflection of the unrivaled breadth and utility of our broadcast media monitoring service and the team that delivers and supports our more than 3,000 clients every day.
There's more to come from TVEyes in 2015 and beyond – stay tuned!