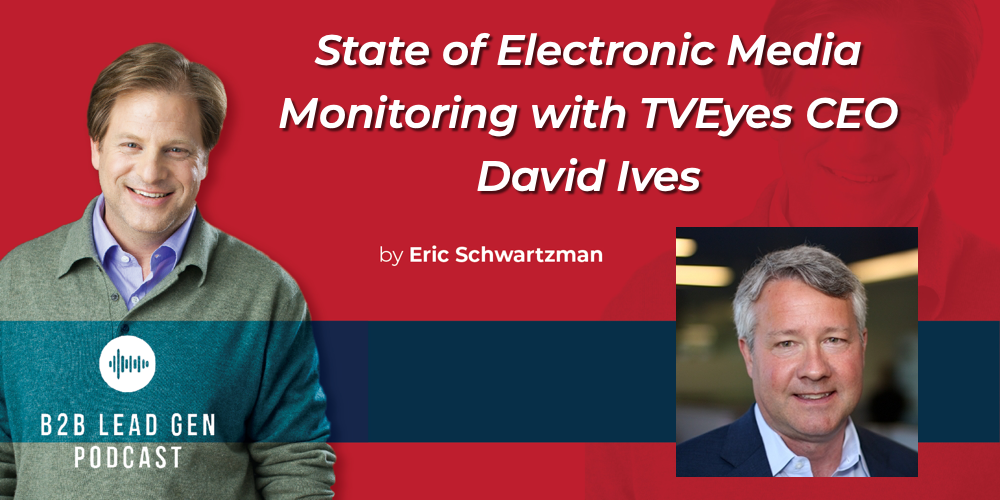 Broadcast media monitoring is critical to effective corporate reputation management. Before you start selling, people already have a bias about most organizations based on their reputation, which is shaped by electronic news media coverage in broadcast and cable television.
If you're able to stay current on what's being said about your brand, you have a huge advantage when it comes to defending your brand and managing your reputation, particularly in the event of crisis or news media backlash of some kind.
The B2B Lead Gen podcast is currently featuring an interview with TVEyes CEO David Ives by digital marketing consultant Eric Schwartzman that goes into the state of the broadcast media monitoring industry, leveraging artificial intelligence to monitor conversations and the features and options buyers should consider when shopping for a broadcast media monitoring service.
Nearly all social media monitoring and news media monitoring service providers white-label and resell the TVEyes service when it comes to monitoring video. Partners offer broadcast media monitoring coverage through reseller agreements with TVEyes. You can view and listen to content inside their platform, however the downloading of audio and video content is only available to clients with a TVEyes subscription.
As one of the first broadcast media monitoring services, TVEyes maintains the broadest searchable index of the stories broadcast and cable news media.
You can listen to the interview on Apple, Spotify, or the show blog.
Eric Schwartzman is a Los Angeles-based digital marketing consultant.