Selecting a broadcast media monitoring service is in some ways not much different than finding a suitable mobile phone plan. But sifting through the best broadcast media monitoring services to find the right fit for you can be a challenge. It's not cost-effective to pay for more than you need, but it's also frustrating to accept limitations that hinder the way you work.
With all this in mind, how do you choose the best broadcast media monitoring service package for you? These questions will help you determine the right fit.
Does your PR strategy cover one region or many?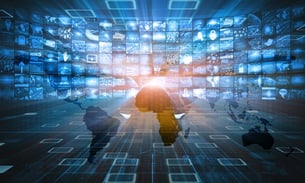 For regional PR teams, it's vital to choose a service that covers the local DMAs in your geographic area. Look for a plan that covers the broadcast programs targeted by your PR strategy. But be careful. Some services may not carry every station in each media center you target, so be sure to review their coverage list before committing.
National corporations and PR agencies supporting clients in multiple states will want more expansive coverage. A plan that covers all 210 US DMAs, in addition to national and cable TV, will be a better fit.
Meanwhile, global organizations and agencies will need robust access to coverage from broadcast outlets around the world. It's best to consider a plan that provides unlimited access to thousands of international media broadcast outlets in addition to all 210 US DMAs and national and cable TV.
What is your coverage volume?
Another requirement to consider is how frequently you need to download segments. Some teams may have media coverage multiple times per month, which means costs can add up quickly on a pay-as-you-go model. On the other hand, unlimited downloads can put almost as much of a strain on your budget. Plans that offer a reasonable yet limited number of downloads each month – 25 or fewer, for example – can help you manage costs more effectively.
More active PR programs, especially those running multiple campaigns simultaneously, are likely to secure more media interviews and news about the brand on TV. If your team regularly downloads broadcast coverage several times a day, then an unlimited plan may make the most sense for your organization.
How often do you need to search for coverage?
Whether your brand or industry is on TV only a few times a week or several times a day, the last thing you want to worry about is paying extra for search. Look for a plan that enables you to search as often as you need to, whether it's once a week or several times a day.
Do you frequently need to look at past coverage?
If you only occasionally search for TV mentions older than 30 days, access to a deep archive of video won't be a priority and not worth the added expense.
What if you routinely use past coverage for media training or to evaluate and compare previous campaigns? Take care to choose a service offering access to a deep archive.
How do you want to store your coverage?
One of the benefits of broadcast media monitoring is that it eliminates the need to keep stacks of DVDs. If your PR team regularly secures a high volume of coverage, cloud storage is essential. Then you can get rid of all those pesky DVDs and free up valuable office space.
Putting it all together
Although every PR team has unique needs, your answers to the questions above will point you to one of the following three options.
A right-sized plan for regional teams: For mid-sized organizations garnering consistent regional publicity in several local DMAs and that only need to download a few segments per month, a regional plan be the best choice for you. Be sure to choose a vendor who offers unlimited search as part of its standard package.
A national plan covering every local channel: The biggest challenge for national PR agencies and corporate in-house teams is capturing both national and local coverage in every market. You can't afford to miss a single mention. Choose a national plan that monitors broadcast programs in all 210 US DMAs plus national and cable TV. Be sure to ask about options for faster customer service. When you need to find your CEO's latest TV interview fast, speaking to a real person can save you valuable time.
A robust plan with comprehensive global broadcast coverage: Global PR agencies and multinational corporations will want nothing less than comprehensive coverage of global broadcast media. To manage and share your coverage efficiently across borders and time zones, look for a global plan that gives you the ability to store coverage in the cloud and search a deep archive.
Make the most of your PR budget; be sure to choose the right plan for you – and your clients.