It's a great pleasure to announce that we'll soon be moving to new quarters, just down the road from our current offices in Fairfield, Connecticut. As any visitor to our current offices has seen, we've grown out of the space – and then some!
As we move to the new building, we'll more than double our seating capacity, with room to continue growing in place, and will add much-needed meeting and private office areas. And we're no longer tenants: We bought a building that offers the ability to expand into unused space and space currently occupied by tenants if necessary. It should be a great home for our next leg of business expansion.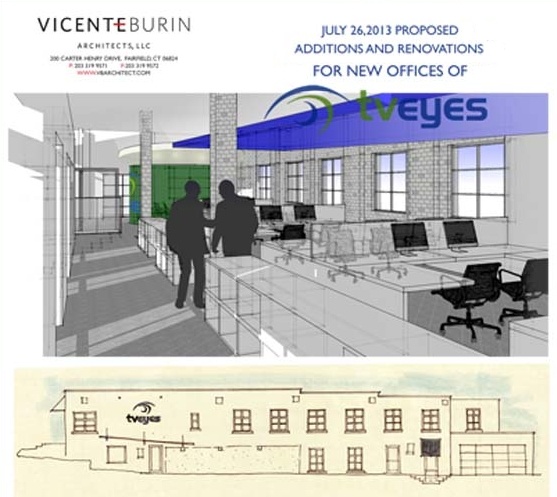 We're especially excited about the result of our collaboration with Vincent-Burin Architects, an award winning and very creative architecture firm founded in 1999, based locally in Fairfield, Connecticut.
We asked Paulo Vincente for a few words about his firm and working on our headquarters project. Here's what he had to say:
"Vicente-Burin Architects acts as a full service design oriented firm with the goal of providing highly personalized attention to each of our projects. We are very excited to be working closely with TVEyes on its new headquarters building in Fairfield. Our intent is to open up the space for a more contemporary layout with great light and flow for a comfortable and productive office environment. Our most recent schematic design provides generously sized work stations in various styles including open concept, private and sales offices; as well as a large collaborative conference area."
Thanks to the hard work of our employees, the vision of our architects and the loyalty of our customers, we'll be moving into our new offices later this year. Perhaps the most important aspect is that we'll be able to grow in place for the foreseeable future and expand our service, sales and development teams to continue building and supporting the leading broadcast media monitoring service.