The Banana Index illustrates three types of crises. In addition to "Yellow," a crisis can also be "Green" or "Brown." Each category represents a different degree of intensity and state of immediacy. In each of these scenarios, broadcast monitoring can help you more effectively plan, manage and respond to a high-risk situation.
In crisis communications, the "Banana Index" is a useful assessment and planning tool for risk and crisis management. Knowing which type of crisis is at your door can help you prepare and focus on the right steps to resolve the issue quickly.
Yellow Banana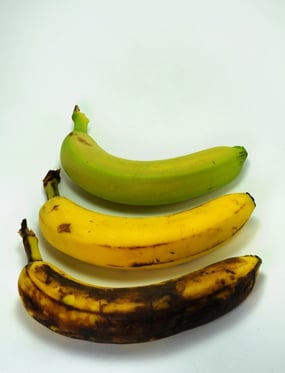 The "Yellow" banana. Of the three types of crises, this is the one that every public relations professional dreads the most. On the index, a "Yellow" represents a crisis that moves quickly, leaving no time for planning or preparation. Think natural disasters like earthquakes or tragedies such as plane crashes.
In a fast-moving situation, it's critical to understand both what is being reporting and how far and fast the news is traveling. Thus, in a "Yellow" crisis, access to broadcast coverage soon after it airs is essential for reducing damage to your organization.
Broadcast monitoring plays many critical roles as an immediate crisis unfolds. Most importantly, it allows the crisis specialist to:
Track all mentions to understand how your organization is being portrayed by the news media. Using video clips and transcripts, you can determine how best to respond and adjust talking points intraday.
Assess the scope of the crisis. With a line of sight into local, regional and international markets, you can better analyze the reach of the crisis and act quickly to minimize the spread of reputation-damaging news.
Green Banana
A "Green" crisis is one that is emerging, giving you plenty of time to plan. However, there's always a risk that it can erupt quickly, making an ongoing broadcast monitoring program a necessity. Examples of "green" crises include activist opposition, product defects or financial troubles. Volkswagen's current troubles likely began as a "Green" crisis, but evolved into a "Yellow."
With the luxury of time, public relations professionals can use broadcast monitoring as part of the planning process. With it, they can:
Review broadcast segments to identify friendly and adversarial media outlets and develop a plan to cultivate relationships with these journalists long before the crisis erupts.
Analyze the style of questioning and use clips to help train spokespeople effectively for interviews.
Brown Banana
A "Brown" crisis is one that persists, potentially for years, despite the best efforts of management. Examples are rumors that spread about a company and never seem to be dispelled.
With broadcast monitoring in place, crisis specialists can work continuously to manage the crisis. It enables them to:
Flag misinformation and reach out to the reporter to correct it quickly.
Keep executives updated by preparing daily or weekly reports that include samples of coverage from various markets. The capability to conduct keyword searches is required, because often companies won't know if or where something has aired.
Regardless of the color of the crisis, a comprehensive, searchable television database is critical for evaluating the scope, identifying hot spots and keeping track of issues that are very specific to a town or area.
And access to alerts of relevant coverage will help executives and crisis specialists stay more informed and provide the ability to address crises before things get out of hand.
For more tips about how to use broadcast media monitoring to manage a crisis, download our free playbook.